Will you Help me Fight Homelessness?
Written on the 4 June 2018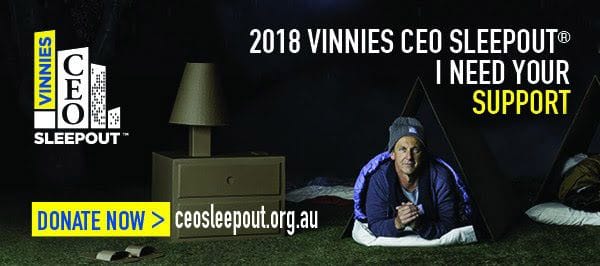 On Thursday 21 June, I will be sleeping rough at Cbus Stadium Robina as part of the Vinnies CEO Sleepout 2018.
105,000 Australians - everyday people will you and me - experience homelessness every night. This is even more upsetting when you learn that 27% are children.
Australians believe 10% of our homeless population are women. It's actually 44%
Join the fight against homeless by donating at the link on the Vinnies CEO Sleepout page HERE.
A donation of $50 can provide warm blankets and a meal to someone in need and $100 can keep a family's power on this winter.
This year I am aiming to raise $35,000. To get there I need your help. Donations are tax deductible and can be processed online.
Click here to make a donation.
Massland is proud to support the St Vincent de Paul Society which helped more than 300,000 Queenslanders in the past year. The CEO Sleepout is one of their biggest fundraising campaigns and all funds will go towards providing immediate and emergency assistance to those in need and support pathways to break the cycle of homelessness.
Thank you for your support. I will keep you in the loop on my fundraising progress and let you know how the Sleepout goes.
Thank you for your donation and for stepping up and making a difference.
Yours in success.....

Mark Rolton
CEO Massland Group